Ending Plastic Leakage in Indonesia
TAP Blog – 1st Entry, September 2022 – Jakarta
By Madeleine Varkay and Iqbal Bhatti
The Canadian government has initiated the Technical Assistance Partnership – Expert Deployment Mechanism (TAP-EDM) Project to provide targeted, short-term (up to 12 months) technical assistance to National Government Entities (NGE) from eligible OECD-DAC countries.  TAP-EDM is a four-year C$18,750,000-million-dollar project funded by Global Affairs Canada (GAC) and implemented by Alinea International.
 Project summary
Indonesia is one of the biggest contributors to plastic leakage into the ocean. The President of Indonesia has committed to reduce marine plastic debris by 70% before 2025. This will require doubling the collection and recycling of plastic waste and building or expanding safe waste disposal facilities. Achieving these goals is estimated to cost USD 18.4 billion according to Indonesia's National Plastic Action Partnership (NPAP).  Raising this capital requires pairing: (i) innovative financing solutions, including blended finance schemes; with (ii) more efficient mechanisms, processes and systems in waste management/plastics recycling.
TAP will develop a workable blended financing model to be used by local governments and financing partners to acquire and operate plastics waste management systems that reduce levels of plastic waste leakage. A proof-of-concept approach is envisaged in a city/regency for a more context-specific blended finance solution. This blended financing model would serve as an example to stakeholders and local governments.
 At the request of the Coordinating Ministry of Maritime Affairs (CMMAI)*, the Embassy of Canada has requested advisory assistance on the collection, recycling, processing, and financing of mixed plastic waste.
For this project, the TAP technical assistance initiative (TAI) 30-2021 is working with CMMAI to design, develop and test one or more workable waste processing technologies supported by blended financing in Bali and/or Surabaya. The international technology expert Iqbal Bhatti and the blended finance expert Madeleine Varkay returned to Canada after a three-week, intensive due diligence deployment in September 2022.
Key stakeholders in the national government in Jakarta expressed substantial commitment to finding sustainable, public-private, and fully private turn-key solutions on the processing of mixed plastic waste.  While the supply chains for PET (Polyethylene Terephthalate) are well established with strong commitments by major corporates such as Nestle, Danone, major drinks manufacturers to work with Veolia on capturing recycled plastic bottles for re-use, this is not the case for mixed waste plastic.
Large volumes of small sachets and plastic bags, remain in landfill or worse, are leaking into the waterways and ocean, for lack of economic value as a recyclable material. The objective of the TAP-EDM advisory is to assign an economic value to these mixed plastics, to create a market and generate the required daily volumes to turn mixed plastic into feedstock at plant gate, by an offtaker.  Provided a minimum daily volume of 10 tons/day is met, an offtaker such as a pyrolysis plant or a waste to energy plant manager, will be able to use the mixed plastic waste to derive biofuels for use by the local population or as a feedstock to convert waste to energy for offtake by the national electricity grid operator.
These are some of the technology options that are being considered for financing and that are gaining traction with counterparts at the national and local levels. Canada is a centre of excellence on waste to biofuels and waste to energy, which creates opportunities for deepening cooperation and value-added partnerships with Indonesia.
*For more info read article: Here's how Indonesia plans to take on its plastic pollution challenge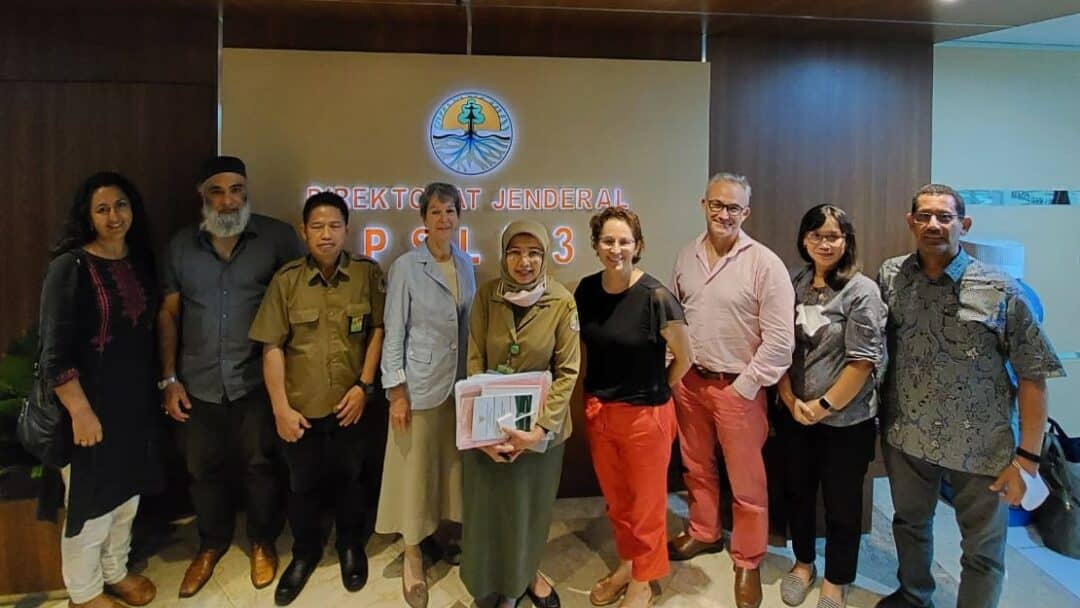 TAP Blog - 2nd Entry - Bali
Ending Plastic Leakage in Indonesia
The TAP-EDM deployment to Bali provided particularly relevant insights to municipal waste management, during the lead-up time to the G20 Presidential meetings in November 2022.
Bali is a world-renowned destination for eco and cultural tourism.  Less known are the significant plastic marine debris that wash up on the beaches during the storm season which lasts from March to November.  The more progressive districts have dedicated themselves to managing mixed plastic waste by reinvigorating the district waste facilities, TPS3Rs, and converting mixed plastic waste into basic paving products for municipal use.
One such site in Seminyak, has reorganized the district waste facility into a privately managed facility run based on daily waste collection from households, retail businesses and hotels that depend on the pristine beach environment to attract a steady flow of national and international tourists.
Every day, the waste facility's tractors sweep the beaches between Kuta and Seminyak, clean of debris, thus ensuring the ongoing reputation of its tourist attraction.  The TAP project had the opportunity to provide further advisory input on new types of plastic waste derived products and additional worker safety standard measures at the plant.  These recommendations were received with great interest and an invitation was extended for the Canadian experts to return to the TPS3R to view the new management practices in January 2023.
Organic waste is a major issue and while attempts are being made to convert organic waste into compost, the use of organic fertilizer is less productive for farmers.  Therefore, to free up space at the waste facility from the large volume of palm and coconut waste, biomass technology has been proposed as an option to facilitate volume throughput and create value-added energy source.  Several NGOs have indicated an interest in applying biomass to the TPS3R sites they are supporting in Badung Regency.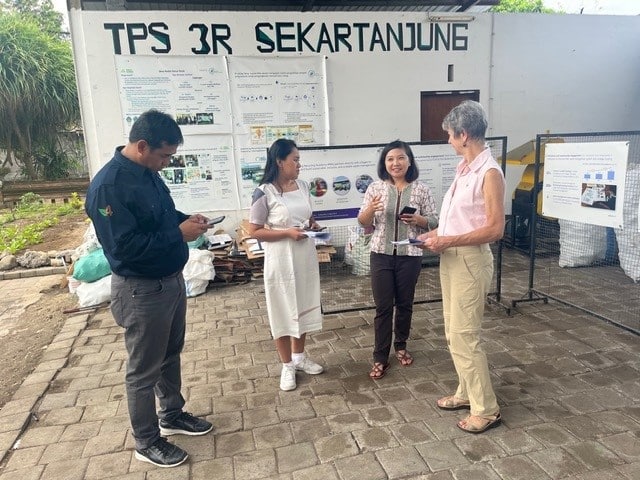 TAP Blog - 3rd Entry - Surabaya
Ending Plastic Leakage in Indonesia
Surabaya is the second largest city in Indonesia with a bustling port, industrial and commercial zone, also near major tourist attraction sites such as the world-famous Mt. Bromo, an active volcano.
Well known for its progressive governor and mayor, the city has attracted large foreign investors in the manufacturing sector, including Veolia which recycles PET (polyethylene terephthalate) bottles for use by international drinks manufacturers.  In addition, the large landfill outside the city now supports a foreign-invested waste to energy facility, that converts municipal solid waste to energy, for off-take by the national grid operator, PLN.
Surabaya has also established a waste management partnership with its sister city in Japan, Kitakyushu City.  The Green City Development and Sister City Cooperation, involved a five-year technical assistance to support improved waste management processes at sub-district, district and municipal levels to enable daily waste collection from households, enterprises, and industries.  The rates are set to encourage waste sorting and is some cases, credits for waste collection are linked to a household's monthly electricity bill.  Some international NGOs are viewing this pilot to mainstream household waste management via monthly utility bill credits.
Given the large volume of mixed plastic waste in Surabaya, opportunities for converting mixed plastic waste to energy are being considered by both NGOs and foreign investors.  Canada has the opportunity to deploy its technological expertise and provide value-added solutions for the mixed plastic waste feedstock.  The TAP team met with the Benowo Waste to Energy plant managers to review the process, whereby 1500 tons of mixed waste per day, are converted into 10 Megawatts of energy.